Rita Guzzi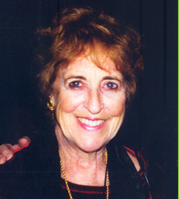 Rita Guzzi attended Boston University and graduated from the Art Institute of Boston where she served as Chairman of the Drawing Department for five years. She has taught privately for 40 years. She received her teaching certificate from Boston University. The artist works in oil and acrylic, enjoying each for their unique qualities. Her idyllic paintings of children have been exhibited nationwide and are in many permanent collections. In 1985, she was commissioned by NASA to document the night lift-off of the space shuttle Atlantis. Among a large body of works created for the USAF Art Program are portraits of General Hap Arnold, General Claire Chennault, and many Air Force Aces.
Collectors and horsemen alike eagerly seek her bold, textured, palette knife paintings and photo realistic images of champion thoroughbreds and Triple Crown races. Among the permanent collections in which her work is represented are Mr. and Mrs. Bertram Firestone, Calder Racetrack, the Daily Racing Form, Sullimar Stables, Osprey Farms, Bowdoin College, University of Maine, State Street Bank, The Pentagon, White Fuel Corporation, National Distributors, the Archdiocese of Boston, NASA and Brunswick Music Theatre.
In 1997, Rita Guzzi and her husband George began teaching a landscape painting course In Talloires, France for Tufts University and continues to do so today. Rita has also given workshops at Tufts and other sites around New England. Besides her work for NASA, she has visited several Air Force Bases (including Aviano AFB in Italy) for the Air Force Art Program and has 12 paintings in the collection. Her paintings have graced many covers of equine magazines. She has also produced many paintings depicting polo matches around the U.S.
Rita completed three Trompe L'oeuil paintings depicting early mill workers for the Charles River Museum of Industry in Waltham, MA. Each 4 x 6 foot panels were installed in the early period factory windows leading to the main brick entrance of the museum. She was also commissioned to create a 10 x 13 foot Trompe L'oeuil at Susanna's Church in Dedham, MA. Several of her Trompes are in private collections throughout the New England area.
Where Exhibited:
Saratoga Art Gallery, Beresford Art Gallery, and Terry Lindsay Art Gallery in Saratoga Springs, NY
Busch-Reisinger Museum
Jordan Marsh Annual Exhibition
Regina Lee Gallery
Pentagon, Washington, D.C.
Air Force Academy, Colorado Springs
Brockton Art Museum
Society of Illustrators, NY
Estrella de Manana Gallery, Harlingen, TX
Air Force Museum, Dayton, OH
Nantucket Artists-Patron Show
Kobra Gallery, Ponte Vedre, FL
National Art Museum of Sport
Nabisco Brands USA Gallery
Chimney Pier Gallery, Boothbay Harbor, ME
Shaw Gallery, Naples, FL
"Art of the Sea", S. Thomaston, ME

One and Two Man Shows:
Clark University
Waltham Public Library
Newton Public Library
Society of Illustrators, NY, NY
Shaw Gallery
Fotene Gallery
Suffolk Downs
Kobra Gallery

Represented in the Following Permanent Collections:
State Street Bank & Trust Co.
Department of the Air Force
President, University of So. Maine
Mass Hospital Association
Coolidge Corner Co-Op Bank
Charles River Museum of Industry
Kennedy Space Center, Cape Kennedy, Daily Racing Form
Mr. and Mrs. Beltram Firestone